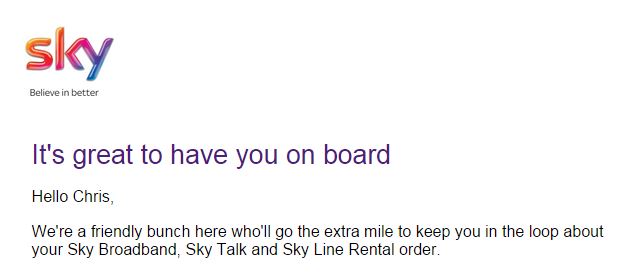 Saturday, 28th Mar 2015. Epilogue.
Shortly after the fourth serviceman called at my house to tell me he couldn't do his job, I cancelled my direct debit to Virgin. Then I ordered Sky online, half price for a year, for £3.75 a month.
Sky delivered the necessary equipment within 3 days, which I set up myself without having to take any time off work. They managed to do in 3 days what Virgin had failed to do in over a month. Then they sent me a £100 M&S voucher, just cause they like me.
Let's contrast that with Virgin.
First, they demanded I sign a new, 18 month contract following my house move.
Then, they didn't turn up to install my internet.
Then, they made my voice go like this.
Then, they refused to rectify their mistake until a further ten days had passed.
Then, they ignored my tweets (to be fair, I don't really blame them here. Look at how many complaints these guys get in any given twenty minute period.)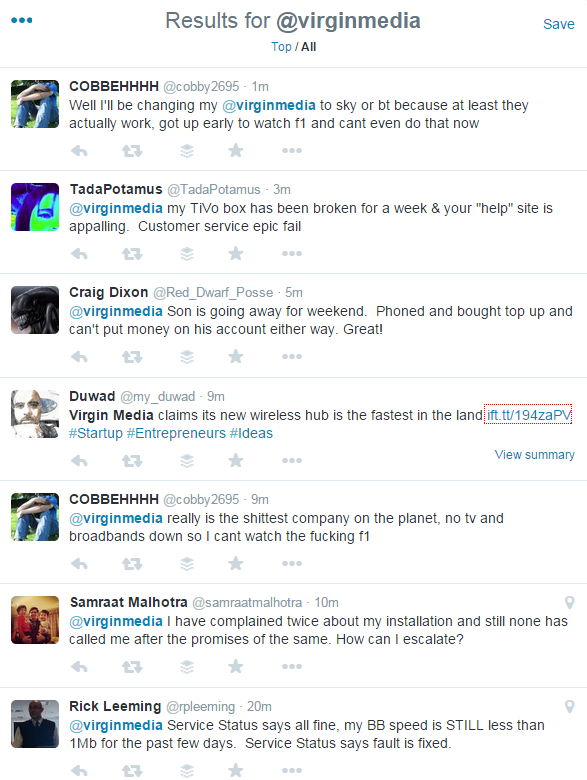 Then, they failed to return my calls.
Then, they were unable to install my internet altogether.
And then, when I requested compensation, they placated me with the following poorly worded response linking through to their terms and conditions.
"I'm sorry to inform you that Virgin Media do not offer compensation on a residential contract for any loss of potential earnings as a result of these issues. This information is based within our terms of service online by clicking here http://virg.in/LWyN3 and as your account is now closed down we cannot add any billing credit to be sent out as cash as we don't have an active account."
So a catalogue of errors, resulting in personal financial loss, for absolutely nothing in return. The corporate equivalent of daylight robbery.
In fairness, they did agree to reimburse the £13 I had to spend on temporary internet. When will they be doing so?
"This will be sent out as a cheque refund within the next 36 working days after the disconnection date."
Ignoring the fact it's going to take them seven weeks to put a cheque in the post, which is it? Within the next 36 working days? Or 36 working days after the disconnection date?
Knowing Virgin, and knowing their reputation, I have a hunch. Admittedly, it's a hunch solely based on anecdotal evidence, with not a t-test in sight. But if I had to hazard a guess, I'd say it's highly unlikely that cheque will ever arrive.
Don't you?
Thanks for reading all. Winkey face.
---
Thursday, 5th Mar 2015. The day of the internet.
The 5th of March was a significant day for two reasons.
One, it was the day Virgin were due to install my internet (well, it was the second day Virgin were due to install my internet).
And two, it was the second consecutive day that Virgin had failed to respond to my reasonable demands.
I awoke that Thursday morning in no way confident that Virgin would fulfill either of the aforementioned contractual obligations, but in high spirits nonetheless. The way I saw it, if Virgin turned up, I'd have high-speed, fibre-optic, Usain Bolt endorsed broadband. And if they didn't, I could feasibly tell them to go fuck themselves.
What I wasn't counting on, though, was for a serviceman to turn up and declare himself incapable of installing the internet. But, somehow, on that fateful day in early March, that's exactly what happened.
In fact, it's a little unfair to pin this on one Virgin Media serviceman. Because in actual fact a total of four Virgin servicemen turned up to my house on the 5th, each confirming (usually between overly-aggressive munches on luminous green bubblegum) that they were unable to do exactly what it was they were employed to do.
I brushed each failure off as insignificant and saw each of them out in turn. It was nothing, I assured them. After all, this was Virgin. No one working for Virgin could be expected to do their job correctly.
So I went to sleep that night, once again, without internet.
Then, twelve days later, Virgin replied.
---
Tuesday, 3 Mar 2015. £13 and we'll call it quits.
And so it was that my installation date was amended to the 5th of March (I was unable to cancel – I was now in a contract that simultaneously had begun before installation and that nobody had bothered to tell me about).
Given the 5th of March was a further twelve days away, I soon decided that I needed a short term solution. I could not be without internet for a full 26 days. After all, I had a blog to write.
So I purchased a bit of pay as you go internet from o2 for the bargain price of £13 to tide me over. £13, I figured, was not a great deal of money. Especially given my overall plan. Speaking of which…
Virgin Media, as I know you're reading this, here's how you can make amends:
Given the ordeal you've caused (not to mention the hours of my life you've taken away from me), are you willing to cover my £13 charge with, say, some of your £4,120,400,000 (yep, that's a real figure) 2013 revenue?
And, whilst we're at it, can you also cover the wages I'm gonna lose in time off work this Thursday waiting in for you, given that my initial installation was scheduled for a Saturday?
We'd all love to know – so please, get back to me promptly.
---
Friday, 27 Feb 2015. Once again, no internet.
The more observant amongst you may have by now have realised that I remain, almost three weeks after moving into my new home, without internet. All courtesy of the oh-so reliable Virgin Media.
Virgin were originally supposed to install my broadband on Saturday the 21st. I had guests coming over to see the new place. I thought I might throw caution to the wind and stream some music via the internet. Why not? By the time Virgin was installed, there'd be plenty of internet to go around.
Sadly, though, after waiting in on a pleasant Saturday morning throughout the entirety of my 8am-1pm pre-arranged 'installation' slot, 1pm came and went. So I called the lovely Violet to see what was going on. She couldn't tell me. Probably because she really, really, really didn't want to spend her Saturday arguing with me.
It turns out, though, that arguing with utility companies for hours on end is exactly how I like to spend my Saturdays. In fact, behind waiting in for five hours for servicemen that don't turn up, it's my second favourite thing to do. So I persevered. I wanted to get to the bottom of this. I asked Violet to consult her manager to find out what on earth was going on.
To her credit, Violet obliged. And she came back with this:
They're good people, aren't they?
---
Thursday, 26 Feb 2015. Still no internet.
By now, you'll likely know how Violet from Virgin Media handled my recent customer enquiry (spoiler alert: with malice and contempt). But what you won't know is why.
Why did Violet speak to me the way she did? After all, that's just a short clip of a conversation that was over an hour long (don't worry; you'll hear more as our story unfolds). What happened in the moments leading up to Violet's patronising proclamations?
Did I insult her mother? Was I racially abusive?
Given the way she dealt with my query, I'd forgive you for assuming I'd threatened to break into her house and install BT Infinity.
Alas, it was none of these things. The reason Violet spoke to me the way she did, the trigger that caused her to repeat the word 'really' three times to underline her intentions, was simply me questioning why Virgin had failed to come round and install my broadband when they said they would. That's the absolute truth.
And of course, after twenty minutes of confusion and consulting her manager, Violet answered my question. It's this clip that I'll be releasing to you all tomorrow.
---
Monday, 23 Feb 2015. I have no internet.
Virgin Media give us a lesson in customer service
That's Violet from Virgin Media. Customer service at it's finest. For those hard of hearing: 
Violet from Virgin Media: The only – Christopher I really, really, really don't want to spend my Saturday arguing with you, right? So either –
Me: (Shocked) Do you think I want to spend my Saturday arguing with you?!
Violet: You know, you are, you keep saying, "Tell me what to do, tell me what" I'm unable… and… I told you that!
Me: (Even more shocked) Are… are you joking?! I cannot believe you're speaking to me like this! I cannot believe –
Violet: Do I sound like I'm joking? I can't believe you're speaking to me like this!
More to follow.
Names have been changed because – for some inexplicable reason – I respect this woman's privacy.